Nano Continuity is the brand new subscription site training course from Ryan Lee… with a twist! Rather than focusing on a membership site that charges $97 a month or more; this membership training course is all about creating high value low cost sites that; convert like crazy, keep members engaged for years, and ultimately make a lot of money.
I actually heard about the idea of nano continuity at the weekend when Ryan Lee was on stage at Yanik Silver's $3.5k Underground Seminar in Washington DC. I immediately saw the value of the nano continuity and was so impressed that it actually got placed at number 2 in my priorities list! Number 1 was… well, more on that later…
Now I'm not going to write some fake review about how I've made millions or even thousands from nano continutiy; The truth is I only heard about the concept at the weekend and actually picked up the course yesterday. My first nano continuity site will be launching within the week but it's not quite ready! That said as someone who has already bought the course and been through all 4 modules (not had a chance to check out the bonus ones yet!) I feel qualified to share my Nano Continuity review as it's the closest thing you will get to a full review only a day after the course launched.
So without further ado…
My Nano Continuity Review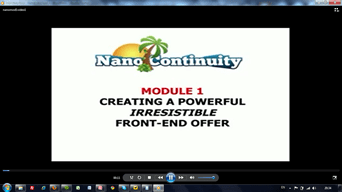 The entire course is split into 4 main modules and each is split into the main sections that you need to complete for a successful nano continuity program. In each module Ryan provides you with several methods that can work but always makes sure to recommend the method he thinks most worth while.
Wherever a third party service is used he provides personal recommendations and more often than not if you can't afford to shell out for a paid solution you will be able to create a low cost or free offering based on one of his alternate methods.
On a personal level I already knew the type of nano continuity model that I would be taking after hearing Ryan speak at the weekend but even with that information I still managed to fine tune my plans with the information he shares in his nano continuity course. I also used information within the course to completely plan out a front end offer that I can use in future to increase conversions.
In conclusion Nano Continuity is a great product for anybody that is considering creating or already runs a membership site. I can also image from module the first 2 modules that it could be beneficial for anybody that is involved in information marketing. With such a low price point it's easy to see that the value in this course, just like his nano sites, could be worth many times the investment.
Every now and then when I really like a product I decided to put my name behind it and get involved as an affiliate. That's why I have decided to offer a very special bonus for anybody that signs up through my affiliate link. You might remember that I mentioned creating a nano continuity site was one of my top priorities coming back from Washington, DC but I didn't mention the other… I'll give you a hint I've included it in this bonus

My Nano Continuity Bonus
Free Access to "Creating Your First Nano Continuity Site with Wishlist Member" Bonus Webinar
Date: TBA!
As manyof you will be aware alongside my more visible internet marketing activities I also create WordPress Membership Sites utilising Wishlist Member (one of the pieces of software he recommends inside the course). Nano continuity may be a new concept to me but getting sites set up with Wishlist definitely isn't! I will host a 60 minute webinar on how you go about setting up your first nano continuity membership site and answer any questions that you may have on making it work for you!
Clients pay me anywhere from $250-$1500+ to create membership sites for them and I've been using Wishlist for 3 years so 60 minutes of guidance is easily worth the cost of the Nano Continuity course alone and you get it free with your purchase!
Just make sure you sign up through the following link:
http://link4.biz/nanocontinuity
And then forward your ClickBank receipt to contact(at)themodernentrepreneur.com
Talk Soon!