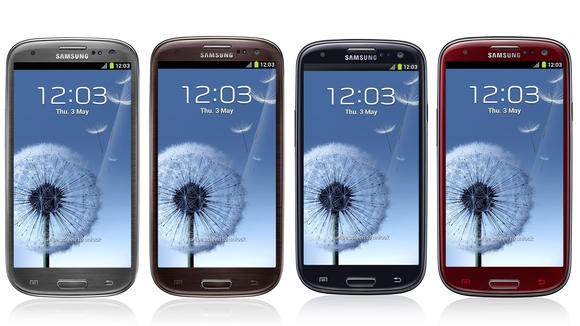 I recently decided that with the Android share of the market growing every day it was time that I start to pay attention. Therefore when I dropped and smashed my iPhone for the 5 billionth time, instead of replacing/fixing it I bought a Samsung Galaxy S3. In this review I will be talking from the perspective of somebody that has never owned an Android phone and has used iOS since the 3G release. The review is split into three separate sections; one for the phone, one for the operating system, i.e. Android, and one for the Android App Store Ecosystem.
The Samsung Galaxy S3 Review
When I bought the phone itself I made a concious decision not to buy a case as it was already considerably larger than the iPhone 4. Instead I bought a Zagg screen protector which the phone shop applied with a chemical solution, which meant I wasn't supposed to even use the phone for the first 24 hours. We went through this cycle three times as the shop couldn't even seem to fix the shield properly (not specific to the phone, however it probably influenced my opinion as I couldn't even use the phone for the first three days). The next hurdle was actually getting the battery in. The phone backing essentially snaps off the back and it very much feels that way. Whilst I didn't encounter any issues I did feel like it was about to break at any moment and the whole thing kind of feels like a toy.
On the third day of owning the phone I finally got to start using it and my first impressions were that it was too big. It is definitely not a one-handed phone for the majority of people, I don't have small hands by any stretch of the imagination yet I still find it hard to reach the upper corners of the touchscreen interface without seriously straining or accidentally knocking buttons lower down the screen. If you're used to larger phones then I'm sure this isn't a problem but this was definitely a disappointment as I'm used to using one hand to interact with my phone. On the plus side it does make viewing videos on your mobile a more enjoyable experience.
The next significant thing that I noticed about the Samsung Galaxy S3 was the slightly ridiculous placement of the lock and volume buttons on the side of the phone. Whilst they are placed well within reach, I would argue that they are in fact "too in reach". When using the phone I am constantly locking it by accident or changing the volume settings. This can be especially annoying when interacting with an app that requires sound. This is probably my biggest annoyance with the phone overall.
Samsung User Interface / Android Review
First a little disclaimer: Unfortunately I've not used enough Android devices at this point to differentiate between which aspects are specific to this phone as opposed to Android in general.
The first thing that jumped out as I went through the install process was how heavily integrated the OS was with Google and Samsung services, oftentimes seemingly similar/competing services. This meant that I ended up setting up several Samsung accounts/services in the process and bringing in a lot more data than I would have liked from my Google accounts.
After the phone was finally set up it was time to start transferring all of my contacts over from my iPhone. Luckily this entire process was made a lot easier than I imagined it would be through the use of an app/desktop software solution called Easy Phone Sync. The software brought over all my phone contacts, sms, and notes.  Unfortunately it wasn't entirely seamless and some numbers were saved without a name, and likewise some names saved without numbers, but the overwhelming bulk of contacts transferred correctly.
There is one thing Android brings to the table that really sets it apart from the iPhone in my eyes and that is widgets. You can install dashboard like mini-versions of apps to your home screen for quick referencing and basic interactions. These widgets are very useful and have definitely added value to my productivity app selection. My favourite widgets right now are; Remember The Milk, Evernote, Business Calendar, and Spotify.
Android App Ecosystem
Whilst this is not phone specific it is often one of the most important aspects when purchasing a smartphone. This was actually my biggest worry before making the jump as I had invested so much into the Apple iOS Ecosystem however it needn't have been. The registration process was painless and I was almost immediately downloading apps that I use regularly. I was also pleasantly surprised to notice that almost every app I used frequently on iOS was free on the Google Play store, even some that I'd paid up to £7 for on the Apple store. It's now almost a month since I bought the phone and I've still only needed to pay for two apps (desktop subscriptions excluded).
The biggest noticeable difference with the Google Play store for Android is that many apps require you to set specific permission (seemingly sover-reaching in many cases) and agree to long terms and conditions before installing. It also feels like there are a lot more questionable apps available in the marketplace that seem like they could do a lot of damage to yo78 ur phone, either through adware, spyware or just through making system changes if you didn't know what you were doing. In some ways it feels a lot like the most PC-like phone I've encountered with all of the extra worries that entails, for example it's recommended you install an Anti-Virus and the adware scanner I installed found potential privacy concerns in 22 out of 78 apps I downloaded. Of course that's not to say this isn't happening to some extent without people knowing in the Apple App Store but due to the nature of the iPhone everything is more locked down by default.
In Conclusion…
After all is said and done the Samsung Galaxy S3 isn't a bad phone, in fact it's probably quite good I might like it more if it fit in my hand a little better. The Android experience on the whole is definitely less smooth than iOS and seems a lot more mechanical with lots of interruptions to the flow of its use. With that said I definitely don't hate it and I'm sure as I get more used to the system I will get past that hurdle. It just seems like there are elements that I wish could be ported to the iPhone rather than the bits I miss from the iPhone ported to my new phone. If you're the type that likes to hack into every aspect of your phone then it is probably worth the investment but if you're just looking for a good smartphone then you'll probably have an easier and generally more pleasurable ride with an iPhone.
Whilst I've tried to make this fairly comprehensive I've probably missed out on a whole bunch of other things so if you still have any questions about the transition please feel free to comment below!