Hey There,
I've created this page so you can learn a little more about who I am. I find it hard to define who I am by my profession or within a single sentence as I wear so many different hats. Depending on when you ask me, you can could find me working on any of the following things:
Internet Marketing: I run a small network of honest affiliate review sites
Business Blogging: I post to several blogs including my own Digital Business Blog
University Student: Studying Business Enterprise & Marketing Management
Web Development: Projects including WordPress Membership Sites & Blogs
If that's not already enough to take in…
I also spend my free time across many different personal projects such as:
Surfing: I'm as regular a surfer as you can be when living in a land-locked city so I split my time between actually surfing and furthering my surf club as a member of the committee.
SCUBA Diving: PADI Open Water certified and looking towards advancing my training soon.
Visiting Music Events: I love socialising and connecting with exciting events; especially around good music.
Promoting Student Events: On the odd occaision I find something I

really

like, I help spread the word!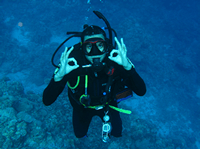 Oh and every now and then I take a moment to actually breathe as well

It may sound hectic from the outside and sometimes it is but everything as it stands now, began a few years back…
My Story…
I've always had an interest in running my own business but after leaving college and working a few more jobs than I'd care to mention I found myself working for a high street bank. The money was good, the people were great but I still felt like something was missing.
I can't tell you how I came to the decision because I honestly can't remember but one day, I decided to throw caution to the wind and book myself a plane ticket to the other side of the world (Australia). The plan, so much as there was one, was to get over there, decide what might be fun and do it. Maybe visiting a few other countries along the way.

There was only one problem…
The ticket had taken the last of my money and the VISA that I'd applied for required that you have at least £2000 (Approx $3250 – Feb 2010)  in your bank to support yourself. What followed was three months of scrambling to pay off everything I had outstanding and get enough money to fly out with. I worked like crazy with sales at work and when I came home in the evening I would head on to the internet applying everything I 'knew' about online business. I learned the ropes as I went along and when it was time to actually leave the country I'd managed to pull together £2600 after my first two weeks accomodation had been booked.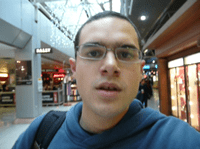 In the rush to gather the money I'd neglected to really arrange things at home so literally the day before leaving the country, I had the most brutal clearout of my life. Everything that I didn't need was either passed on (via my family due to time restrictions) or thrown out. What was left was 2 boxes of things at my mothers house and a backpack on my back with just 4 hours to go!
Whilst my last minute preperation of my belongings may not have been ideal I'd been brewing up something else for a couple of months. During the time I'd spent looking to make money for the trip I'd discovered the world of blogging and had created my first ever self-hosted wordpress blog to document my adventure. In fact I'd learned so much within that period that when promoting my travel affiliate blog on a Sydney based website I was contacted by a national internet company to assist within their marketing department.
Travelling had so many ups and downs that it would be impossible to go through everything here. The truth is even if I did it would be practically impossible to comprehend the impact that this year had on my life. For the first time I was living away from home, I was earning a healthy affiliate income online, I was working remotely for a big business that's now to set to go worldwide, all at the same time as exploring Australia and quite literally having the time of my life.
Oh and of course there are the other random travel jobs you find your way into, either for the experience or just when you find yourself in a temporary financial pickle:
Writing Travel Guides
Deck Hand on Tourist Boat
Scooter Tour Guide
Internet Cafe Assistant
Hostel Cleaner
Electricity Salesman
Farm Hand
How's that for a varied professional background?

Whilst I can't say that there was one defining moment across my travels one of the biggest things for me in a professional sense was the confirmation that I wanted to work around marketing and in particular digital marketing because I truly enjoyed it. However about 3/4 of the way into my trip a policy change made me lose my entire affiliate income and that is when I finally decided I would go to university when I got back to Britain to give myself a solid foundation in marketing and also to experience the student lifestyle whilst it was not too late.
This was all well and good in my head but the universities back in the UK didn't agree as I hadn't the relevant A Levels for the course that I had chosen. After being point blank refused access to the course or even a chat with the higher officials not once, not twice, but three times, I decided to get a train across the country and visit them in person. It was here that I finally managed to speak to one of the course leaders and we spoke in depth about my interests and experience. Within days my university application was off, I'd applied to one university and one course against all outside recommendations, I knew what I wanted to do and I got it!
As it would be a full academic year before I would even be able to start university I turned to the fun prospect of seeking a job right at the peak of the economic crisis and recession. I felt so close to getting a job so many times that I lost count and began to lose hope. It was about this time I read an article about the psychological damage that unemployment could leave, especially in regards to young and middle aged men (unfortunatley, no idea where I found this, who it was by or if it's even true). Enough is enough I thought and this was the birth of my career as a freelance web developer.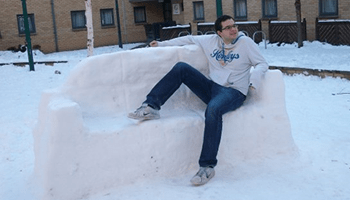 Skip a year or so ahead and I'm back in sunny old England where I've reached the situation at the top of this page. I've a diverse set of interests and am determined to make my career in the world of digital marketing. I still run my business alongside my university course and if all goes to plan both experiences will grow hand in hand until I eventually take over the world (Only kidding… I think…).
So there you have it, the abridged story of how I got to be where I am today. If you've found yourself on a similar journey, would like to learn more about any of my interests, want to work with me on a project or just fancy a chat then feel free to connect with me at one of my social profiles (Right now I'm most active at Google+).
With a bit of luck you've enjoyed hearing my story and we'll have the chance to connect either here or elsewhere online.
Talk Soon!